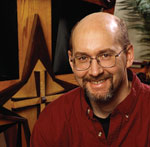 114 Woodward Ypsilanti, Michigan

48197

734 218-5803

e-mail Alan

Here is a not so brief re-cap of my experience at the

2007 Milwaukee Fine Furnishings Show .

First-No Sales and probably no commissions- although those could find their way into my e-mail box weeks or months down the road.

This was my second time exhibiting my work at this show-It is also the only show I've done-so my experience is a bit on the slim side when it comes to comparing events. This year was also the second year for this show in Milwaukee. The Fine Furnishings Show in Providence has been quite successful for 12 years.

I found the show to be of very high quality-including the organization of the event, the logistics for setting up and displaying and the quality of the work displayed by other exhibitors.

But in spite of of what I feel was no doubt good preparation for the show, it was difficult to sense much excitement from those that attended. The visitors that seemed interested enough to come into my booth were either people that I knew personally or had met on the internet-or  they were potential exhibitors themselves and were there to scout it out for their own possible presentation some day.

Beyond that most people strolled through the show looking at the work in the booths almost as though they were in a Furniture Museum. They seemed unaware that the work being displayed was for sale. I suppose some of this is my own subjective opinion but it seemed to be reinforced by observing the attendees at other booths too.

I admit that my booth presentation probably needs a bit of "glitzing up".  As you can see in the pictures , I set up a display that is sort of  "homey" . Other exhibitors had a similar feel to their booths but many had a greater use of over head lighting, and backdrop wall arrangements that were probably more effective in saying "Come on In and set a spell"... So for future events such as this I will seriously consider building a more substantial "stage"

All that said -my results were unfortunately not atypical for a number of exhibitors.

That is probably not too surprising as this is only the second year for this show and getting an eager buying audience to attend will take a long term effort. For exhibitors such as myself that are semi-professional- ie we do sell our stuff but are otherwise employed outside of the furniture business, it is a difficult venue to continue putting resources  into.  I will wait till after the first of the year to see if I'll commit to next year.

Now SALES aside- this really was a great experience. First off getting away for a weekend with my lovely wife Eileen was truly a blast and she helped in everyway possible-Especially keeping me from going insane when I arrived for set up on Friday. I had carefully planned to arrived by the 7pm set-up time I was given.

I pulled the van into the entrance ramp for the exhibit hall at 6:45pm right on schedule. But I was told hall was closed and I would have to come back in the morning. This really teed me off- How could they tell me to set up at 7 but close it down at 6:30?  .....Well  I ran through my stack of papers looking for the schedule- I KNOW it said 7 pm.....rumble rumble through the stuff   ...A HA! here is the paper see SEE!?  There it is right there   7PM!..

um  uh oh.

uu......gh

that says 2006?

I rumble through the stack again and find another paper with 2007 assigments-sure enough my time says set up 4-6pm. So I re-arrange my irritations and point them where they belong---After 45 minutes of verbally and physically kicking myself,

I was ready to relax and plan for an early set-up.

With great help from Eileen and my brother Dana and my Dad who would arrive latter that evening, everything got set up in the morning and there was time to spare.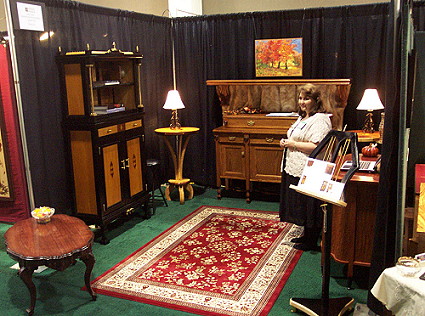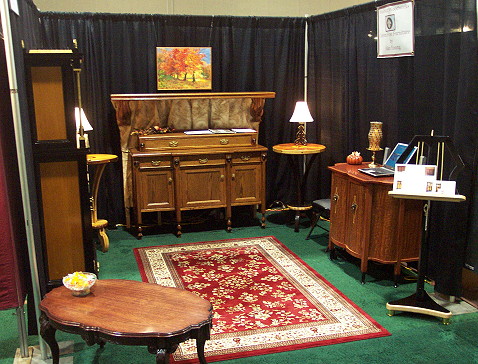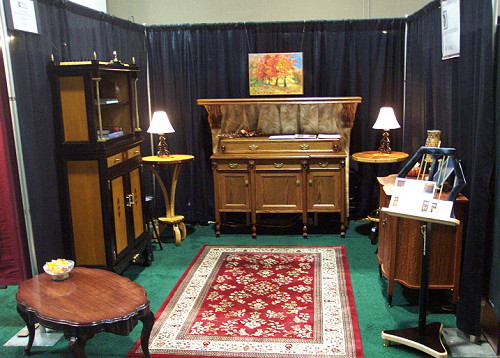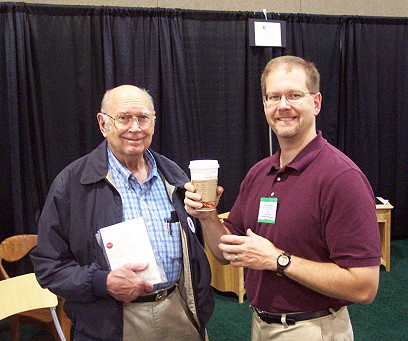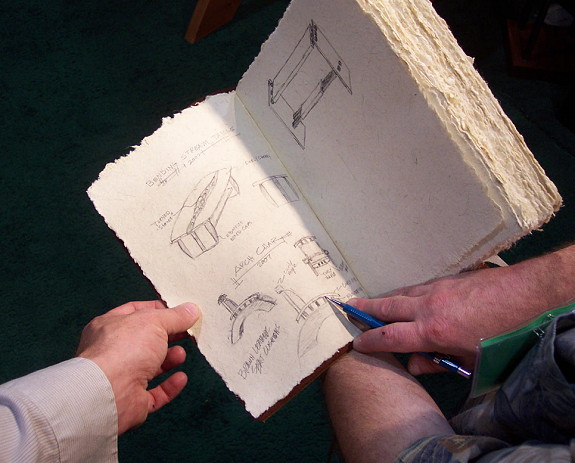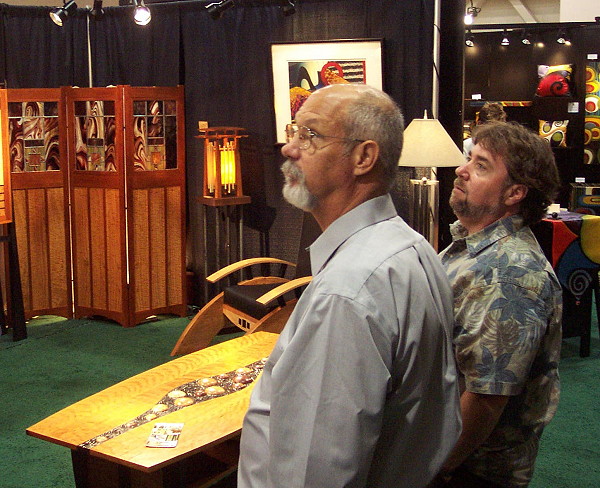 "I tell ya Earl that has got to be the UGLIEST Empire Bookcase I've ever seen."





Custom Furniture vs Studio Furniture

I think  that participating in this show has helped me see that there is a difference between Custom Furniture  and Studio Furniture.

The end products my not be too dissimilar but there is a subtle but noticeable difference for the "audience-consumer-buyer-market" of the two.

The challenge is to identify the differences and acquire the skills necessary to present work appropriate for each.

I do have a reoccurring general sense of my journey as a woodworker/furniture maker-It seems I've reached the top of the particular ladder I've been climbing-then pushed open a small lid, as I poked my head up I found "The Real World" of Furniture artists-A mad mad mad dashing about of furniture traffic. Designs, finishes, connections to "people" shows, galleries and collectors all hurriedly and confidently moving about and exchanging goods and services...In the meantime I had to duck back under to avoid being run over. There it was-- a brief glimpse into the real world of this craft .  I was not being excluded from it- But entering this world was not just a matter of waiting for the traffic to subside so I could stand up a get settled- rather I have to close the lid, go back DOWN the ladder and clean up a bunch of stuff before  heading back up- only this time I may not head back up the same ladder...There is a possibility I'll need to switch ladders to find my way to the world I saw...

Alan

Last year my Dad attended the show with my twin brother Larry and my sister Jane. This year Dad returned with my youngest of three twin brothers-Dana.

Yes I said THREE Twin brothers,

Figure it out!

I had made arrangements to have to help unloading the van Friday night from WoodCentral member-Corey Megal. Upon realizing my great faux pax I called him and released him from duty.

He did stop by the booth on Saturday to say "Hi"

I didn't get a picture, but I extend my deep thanks to You Corey!

I also met WoodCentralian Norb Schmidt who stopped by the booth.

My Booth Neighbor.

I was most fortunate to have my booth next to

Dennis  is an artist and technical craftsman of exceptional excellence. He and his wife Stephanie are a team and they extended every courtesy and kindness to myself and Eileen. We look forward to visiting them sometime after the holidays.

Please Take time to see his webpage

It was a great surprise and delight to have WOOD CENTRAL Historian Robert Clough and his wife Sarah stop by the booth on Saturday. I had a wonderful time meeting them and discussing WoodCentral, Furniture and woodworking.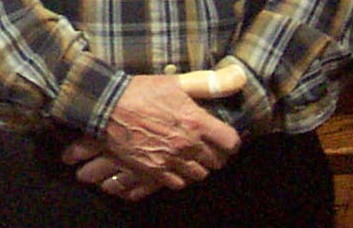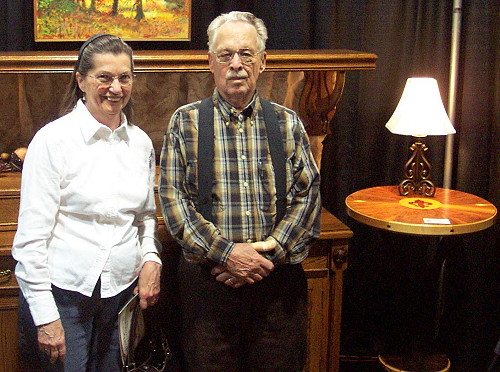 Robert  offered to have me visit his shop soon. He was very helpful in suggesting his table saw methods.

I hope to visit Robert someday. but uuummm.

Well about the table saw.....

THE MEETING NOTE BOOK.

As most readers of WoodCentral know- Tom takes copious notes during those intense meetings held by

Facility Coordinators at the University of Illinois. 

I just so happened to get him to pry open that book to see what important notes he kept.......

TOMMY

Over the course of the past year I have been exchanging

e-mails on a fairly regular basis with Tom Skaggs -a regular Wood Central contributor. It was therefore a great delight to finally meet Tom and his better half Donna.

Unfortunately- I didn't get a shot of Tom and Donna -or Tom's booth.  But his display was absolutely first rate and his pieces were beautifully executed.

Tommy is an artist ready for an audience of distinction.

You may recognize the name of Earl Kelly. Earl is from Pensacola, Florida and posts on Wood Central every so often. I met Earl last year at the show and was happy to see him again -and his unique "Leaf Tables"  Again I am the poor photographer as I didn't get a picture of Earl or his booth- But please!!!! Check out his

(although I have to say the photos do not really show the beautiful execution of joinery and finish !)

Earl also had a writing desk at the show that was phenomenal. Lacewood veneer and Wenge trim. He said I could have it if it didn't sell.

Well congratulations Earl-It must have sold because I noticed you didn't bring it over to my van as I was packing up!

I find it fascinating the different ways people design and build. I have become a Sketchup addict with every joint, part and line designed before I even BUY wood.

While I suspect he makes "adjustments", Tom can pretty much build his pieces from this book.

It was good to get home and put my furniture pieces back where they were last week. If nothing else it prompted me to refinish the buffet. It's  odd- I knew it was the most "casual" of the pieces I had there. But it drew more attention than any other piece I had.  The black Empire Bookcase caught people's eye on Sunday afternoon when I pulled out the drawer/shelf and placed a book on it...People noticed the function more than the "glitz"...I spent way more time this year walking the show isles and talking to other exhibitors. THAT was really good to do. Dennis  and Stephanie were a blessing to be next to. They shared so readily their experiences and knowledge...really high end stuff and a high end couple that are honest and approachable.

A Final NOTE

It was a good thing to be around other furnituremakers and exhibitors. There was a more than congenial sense of comradery. I was most encouraged by the support I received from my fellow furnituremakers.

In 2006 Eileen and I met a couple from New Orleans Louisiana. Greg and Liz Arceneaux were "scouting the show". This year they were exhibitors. What a fun and amazing couple!

Their home town should tell you something- They are Katrina survivors. A story that would take more time and bytes that I have. Please look over their work. French Creole Styled pieces-

I called it "Quietly Sophisticated"

I think Greg used the phrase "Happy neglect"

What every you term it- Their work is beautiful.

NOTE!

On occaision you'll see me mention

Wood Central in this report. Wood Central is a woodworking forum that I frequent every day.