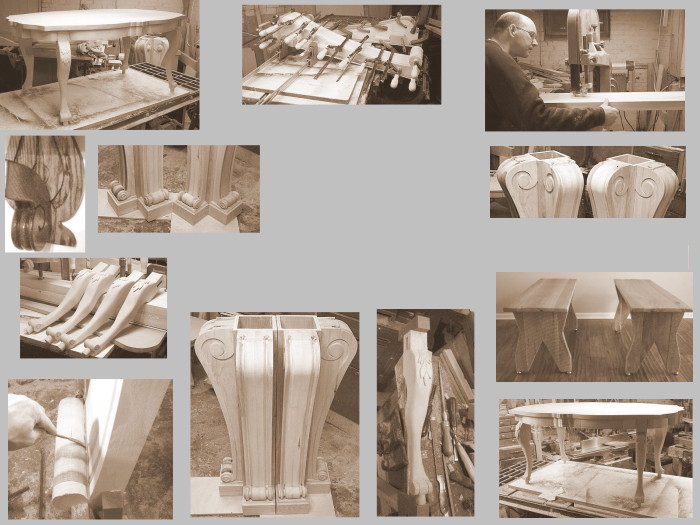 WoodwardWoodworks News

April 2007

"Unfinished"  This is a term that frequently occurs in the music world.  It is usually a posthumous title given to a composers' last work in a genre. For example Franz Schubert's 8th Symphony or his five Unfinished piano sonatas...In college it is  how my Music History professor would describe my essays. In the furniture world the term "unfinished" usually indicates a piece of furniture with no "finish" applied to it such as stain and varnish or shellac. I have chosen to title my latest newsletter "Unfinished" partly along the lines of the latter definition, partly because some pieces I've recently done are completed but have a unique Unfinished look  and also because I just plain old have several projects going that aren't quite done yet. So as you gaze around the montage above let me briefly describe what I've been up to over the dreary  Michigan winter.

My last news letter in October contained a very happy report from the 2006 Fine Furnishings Show in Milwaukee. After  the show I concentrated on projects for our home including some much needed home repairs-particularly our front porch roof. My son Spencer was foreman on this re-roofing project. We scraped off three layers of old shingles,  made repairs to the joists and fascia and put down a layer of new roofing. All before winter weather had a chance to damage the structure. 

Alas there is still some work to be done on the stairs and the underside sections this Spring so this certainly fits the Unfinished category.  After getting the roof done on the porch, I saw to another request of Eileen-that of a mantle to be mounted over a buffet I made several years before. I am happy to report that the Mantle IS finished.! Click on the photo for more pictures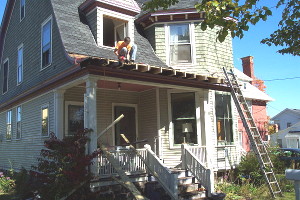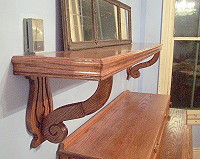 A terrific commission occupied my time in January. I built a table and two benches. These pieces are interesting in the fact that the client requested I use lumber that he cut from a tree on family property. He requested that the final surfaces retain  the "buzz saw" marks made when the lumber was milled. The results are unique to anything I've done before, but I'll be making another table and benches with the same textured feel. These will be for this client's brother... Click on the photo for more pictures

A commission that was wrapped up not too long ago was a set of fireplace corbels. These pieces meet the status of "unfinished" in that they are to be part of a large home makeover a client is pursuing. A mantle will be built by someone else and these pieces will be painted and glazed by a third artist. I was thrilled to be able to be part of the project. I'll get pictures of the "finished" project some time this June. Till then this is what they look like.

Click on the photo for more pictures

The final item of note is a coffee table I've been working on in between all the other projects. This is for our living room. I intend to build a second piece similar to this one and take it  to the furniture show in Milwaukee this fall along with several new pieces  that are still on the drawing board.

Click on the photo for more pictures

A Final NOTE;  I don't know when you may open this newsletter but I am sending it out on Good Friday. While you and I may have a myriad of unfinished things in our lives, we are grateful that one Man did finish the work given Him to do. Have a Blessed Holy Week.